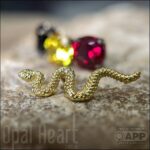 We understand that it can be difficult to afford large purchases outright, which is why we are pleased to offer lay-by arrangements for jewellery purchases at our studio.
We also accept Gift Vouchers towards lay-by payments.
Additionally, we offer custom orders for jewellery with any of the quality manufacturers we carry.
Terms of Lay-by and custom orders
Minimum value – Any currently stocked jewellery over the value of $50 is eligible for lay-by.
Deposit – Each new lay-by requires a minimum 50% deposit. $50 of this deposit is non-refundable upon change of mind for currently stocked jewellery, and the deposit is entirely non-refundable for custom orders.
Term – Lay-by is available for a period of 6 months and must be paid in full and collected by the finalisation date. If multiple payments are made during the initial 6 month period, the lay-by may be extended upon request to a maximum of 12 months.
Cancellation – If you cancel your lay-by, fail to make payment, or fail to collect your lay-by by the due date, your non-refundable deposit is forfeit. Any balance over the initial deposit may be used for store credit.
Availability – In the event that custom-ordered jewellery is no longer available, you will be refunded in full, including your initial deposit.
Collection – The lay-by must be paid in full before goods can be taken.