Healing Time Frames
Week 1 – Inflammatory Period
Swelling, redness, and light bleeding are to be expected. Try to keep the area cool.

Week 2 onwards – Initial Healing
Yellow 'crusties' form as new skin cells are generated. No picking, no touching, no q-tips. This is a good time to send photos.

Week 8-12 – Settled
If you haven't already, come see us to downsize, if instructed. Continue to not irritate or sleep on your piercing. Continue cleaning if you still have crusty discharge.

6-9 Months – Maturation
The skin inside your piercing should begin stabilising. Come see us if you're still healing, are having difficulties, or simply wish to change over your jewellery.
Facial Piercings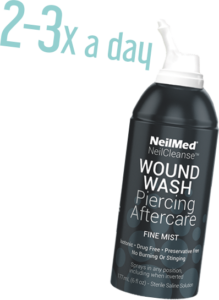 Spray 2-3x a day with STERILE saline. There is no need to rinse off
Warm rinses in the shower when comfortable to remove debris
Do NOT sleep on piercing side
Do NOT turn/twist jewellery
Do NOT pick at your crusties
Avoid chlorinated pools & spas
Oral Piercings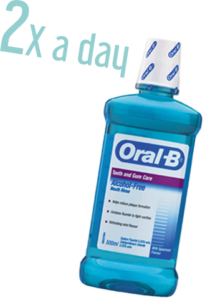 Lips also follow FACIAL aftercare
Use alcohol-free mouth rinsetwice MAX daily after eating
Eat soft/blended food when new
Do NOT play with jewellery EVER
Drink cool water after meals- Swelling is normal for 2-3 weeks
Torso Piercings
Follow FACIAL aftercare
Breast nipples should be protected with fresh nursing pads in non-compressive bras for the first 2 months minimum
Chest nipples should be protected with an undershirt or singlet when possible
No bodily fluids on healing wounds
Genital Piercings
Follow FACIAL aftercare
Bleeding is normal for the first week
Practice safe sex during healing (inc oral)
Sex can resume when comfortable
Shower before/after sex during healing
Surface Piercings

Do NOT cover, catch, or sleep on area
Indirectly cool the area 10 mins at a time
Hirudoid surrounding area to help bruising
Allow us to change your jewellery
Troubleshooting
Keep the area dry if showering in evening
Sleeping on, bumping or touching the area will slow healing & cause pressure bumps
Poor iron or immune system slows healing
Plated metals, <14kt gold, and silver will cause irritation and should be avoided
Alcohol, antiseptics, disinfectants and essential oils are irritating/unnecessary
Your piercing is as delicate as your eyes, so if in doubt, treat them the same