It is common for us to book 6-8 weeks in advance, but cancellations and reschedules often occur – so be sure to keep checking for a last-minute spot. 🙂
After selecting your service you will be taken to the next available appointment for that service type. If a day shows up fully greyed out or won't allow you to select it, that means that we are already fully booked that day and you will need to select another.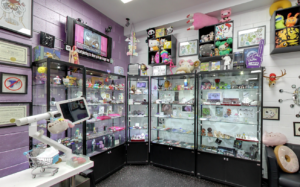 We are happy to offer downsizing, check-ups, and change-overs for our existing clientele if you take a seat on our walk-in bench for a practitioner to be free between bookings.
All new piercings require a booking.
We do not keep a cancellation list. However, if you would like an earlier spot, your best bet is to book in for a future date and then check regularly for an earlier appointment using the "view or change my appointment" link in your booking confirmation email.
You can use this link to find and manage your bookings: opalheart.com.au/find
No cancellations or changes are allowed within 6 hours of the appointment.
Deposits taken reflect the service fee and not the total cost of the procedure. To see our minimum starting prices for piercing services and jewellery, please visit https://www.opalheart.com.au/prices/