Click the above link and select the piercing location, and then choose what time you would like! If the day is greyed out, that means that day is already fully booked.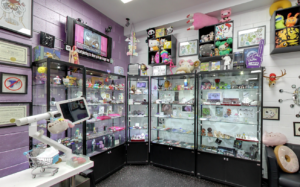 We don't maintain a cancellation list, but you can check later for cancellations or book in and reschedule using the 'change my appointment' link in your confirmation email.
We are able to accommodate walk-in appointments, but note that we prioritise existing clients and existing bookings.
If you are still healing an existing piercing and want to get more, feel free to come by as a walk-in or email us with checkup photos prior to booking.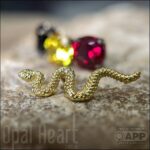 We do downsizes, checkups, and consultation services as walk-ins. Drop by any time, let our staff know what you're after, and we'll help you in between our appointments. Wait times are usually less than 30 minutes.
You can drop by anytime to review and purchase jewellery, however, you may be asked to wait if our bookings are currently selecting jewellery. We generally do not sell jewellery without installation, which can be done during gaps between appointments. Our prices for jewellery range from $55 and up, depending on exactly what you are after. We strongly suggest purchasing a gift voucher if you are shopping for a friend as we are not able to provide exchanges or refunds for incorrect selections.
We operate via appointment priority, which means we take piercing walk-ins ONLY when they can be accommodated without delaying or interfering with our scheduled appointments. We cannot guarantee wait times for walk-ins, so if you need your appointment at a specific time, we very strongly encourage you to make a booking. If you wish to wait for a walk-in piercing, you will need to check in with a staff member before taking a seat on the walk-in bench outside and wait there until you are asked to re-enter the studio to be assisted further.
If you don't have a valid PayPal account (or you can't remember your login), that is fine!
We will still use PayPal as our merchant, but you can check out as a guest – just like normal.
Book your appointment time
When it asks you how you would like to pay, click "Pay with Debit or Credit card" to check out without logging in
If it asks you to Log in, DO NOT and continue by hitting "Continue as a guest"
Enter your payment details to secure your appointment
If you are still having issues, try logging out of PayPal or trying in a private tab in your browser.
We do not keep a cancellation list. However, if you would like an earlier spot, your best bet is to book in for a future date and then check regularly for an earlier appointment using the "view or change my appointment" link in your booking confirmation email. You can use this link to find and manage your bookings: opalheart.com.au/find
No cancellations or changes are allowed within 6 hours of the appointment. Deposits taken reflect the service fee and not the total cost of the procedure. To see our minimum starting prices for piercing services and jewellery, please visit https://www.opalheart.com.au/prices/